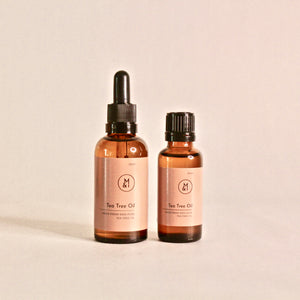 Tea Tree Essential Oil
Regular price
R 119.00
R 0.00
Unit price
per
Tea Tree Essential Oil is one of those with multiple uses; it has the ability to keep your hair, skin and nails healthy! The oil possesses antibacterial, anti-inflammatory, antiviral, and anti-fungal properties! You can use it as a hand sanitiser, as an insect repellent or to even treat athletes foot! The possibilities are almost endless. 
If you have an afro, you can even add a little bit of tea tree essential oil in your moisturising oil as it helps with getting rid of dandruff! Also, if you have head lice, the best way to treat them is by washing your hair with tea tree oil as well as adding it to the moisturiser!
When you have surprise zit, you can quickly dab a little Tea Tree Oil on that little volcano that's about to erupt! Zap it!
Ingredients 
Melalueca Alternifolia (Tea Tree) Oil 
Directions
Add 4 - 5 drops of essential oil to a bowl of steaming water. Place a towel over your head, close your eyes and lean over the bowl. Inhale the vapour for a few minutes. For head lice and an itchy scalp, add a few drops of Tea Tree Oil in your shampoo of choice. For pimples and skin, mix 4 - 5 drops of Tea Tree in 10 ml carrier oil of choice. 
Warnings
Store in a cool, dry place away from direct sunlight. Keep out of reach of children. For external use only.
Size 
30 ml and 50 ml 
---