Hi there,  With everyone scrambling for things to do for special occasions during these uncertain times, I have a freebie for you. I have made it before and have had repeat requests thereafter.  You can substitute the carrier oil (sweet almond oil) with any other oil of your choice (Argan oil, jojoba oil, etc). Same goes for the essential oils. I just love the citrus scents that I love the sweet orange version that I have made before. I am sure you will love making this for your mum or anyone else, really. Winter is coming, no one needs to...
---

To Autumn, Hello + Goodbye It's strange not having four distinct seasons! I had not realised that it was autumn because I didn't see the leaves turn a golden hue! Just like that, it's almost the end of autumn and we will start getting in to our winter routines. Because, you know, you need to change up your skin and hair care routines. We'll be giving some tips on how to use essential oils and carrier oils as we get in to the colder season.  I hope you are all aware that Mother's Day is around the corner!! It's the...
---
• New Product • News

Live Q & A Session on Instagram  Hi there, Are we still sane? I hope everyone is keeping safe and healthy! I am not one to show my face on social media, let alone speak in front of the camera. So, this is a bit of a big deal for me but since we have time on our side, let's do this. I think we should get to know each other. Please send questions via Instagram Direct Message (DM) with all your questions about Mare & Itis Shoppe, non-toxic cleaning products, eco-friendly household goods, Essential Oils, Carrier Oils and the likes. We'll...
---

Happy New Year, New Decade, New Goals! We are back! I am sure you have read many inspiring and repetitive posts and articles about how to have a productive and goal-driven new year. Also, what a fantastic year this is set out to be. I won't get too much in to that. I hope everyone has had a wonderful break (meanwhile in China, we worked) and you're ready to tackle the new year with some oomph. The goal for Mare and Itis is to really branch out into the South African market -- everyone, home or business, deserves a non-toxic, eco-friendly...
---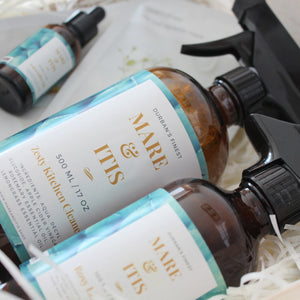 Summertime! Are you ready for the summer? I am actually in winter hibernation enjoying (arf!) sub-zero temperatures! I am living vicariously through the summer snaps on social media so I will sit here and drink my gluhwein and pretend it's a cold bevvie! It's been a wonderful start at the shoppe - thank you for your support! These are the most crucial times when starting something that means so much to you. You give it your everything; the sleepless nights, the lab (read: kitchen) trial and errors. Everything!   Right! On to that summer glow! As you well know, we supply pure essential and...